Patio Paving
Patios are a simple and effective way to make a feature of your garden. They are the ideal point from which to view your whole garden, and are perfect for entertaining guests and having barbeques.
Why choose us?
Established local company
All work fully guaranteed
Full portfolio available
Amazing customer service
This range of uses makes them extremely versatile enabling you to design your patio around your lifestyle, your needs and your home. Here at BCS Ltd, we have the knowledge and experience to provide you with the ideal patio for your needs. Our team will thoroughly discuss your requirements with you before designing your perfect patio around those needs. That way, you're always guaranteed a patio that you will use and enjoy for years to come.
Patio Slabs and Services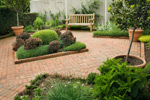 When designing your perfect patio with you, our team will advise you as to the most suitable patio paving and structure that will work best with your requirements. We've been designing and laying patio paving for years and have the ideal combination of knowledge and experience to ensure that your patio works best for you.
We only ever use the finest quality materials & slabs for our patio paving and you can be sure that we will be happy to advise you as to which materials will be most suitable for the intended use of your patio, and which will most complement the exterior of your home.
Our expert team will be happy to answer any questions you may have about our patio slabs, so please don't hesitate to give us a call for more information.
For Quality Patios Call us NOW on 0844 811 6075